Eating Healthy Is That Simple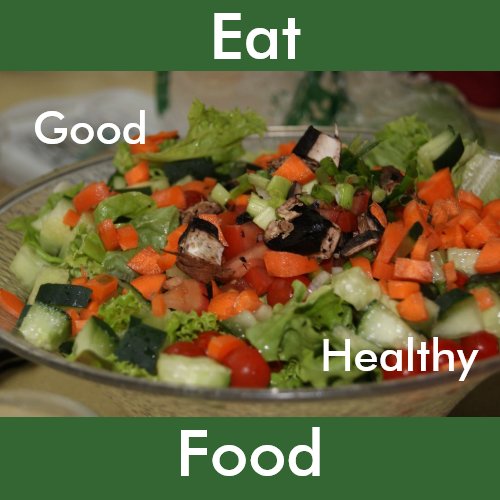 My husband and I have begun to allow our girls to help us make dinner. We feel that if they help us make dinner they will learn to appreciate what they eat more. I can also use this time to teach them about healthy eating and where food comes from.
As of now, I let my girls help me make tasty and colorful salads. My youngest grabs the vegetables from the fridge and places the items on the counter for me. My oldest has become an expert at ripping the giant leaves of lettuce into smaller sizes and placing them in the bowl. Both of them like to watch me chop and add the different colored vegetables to the lettuce. I tell them that it's healthy to eat vegetables of all the colors of the rainbow.
It is no surprise to me then that my children love salads. I've been told my kids are strange because they like healthy food. Why wouldn't they? When I think about it though, I don't come across many kids (or adults) that like to eat healthy food. Go to any birthday party and notice all the kids reaching for the candy and chips, ignoring the vegetables and fruits (if healthy foods are even available). My kids reach for it all: the fruit, vegetables, chips and candy. They are kids after all.
The thing is, it is not hard to teach children how to eat healthy. It isn't true that eating healthy is more expensive either. I have made price comparisons and when all the costs are factored in (ex. doctor bills) eating healthy is a lot cheaper. Besides, kids will eat healthy foods if you lead by example, if you put it on the table, if eating healthy tasty foods is a part of their every day lives. It isn't strange at all and it simply is that simple.
♥
Image Credit: Eat Good Healthy Food by Ecolicious on Zazzle
♥
Ecolicious a.k.a Green Yum Yum is a freelance writer from Texas, a mom of 3 and in love with a pilot. She is an advocate for green living, healthy living, and safe driving. She is also madly addicted to chocolate. Locate her on Squidoo to find out a little more: http://www.squidoo.com/lensmasters/Ecolicious